Dreams Are Strange
---
click image for credits and lyrics | click on Store link above to purchase
The most recent CD of music, Dreams Are Strange, is comprised of equal parts Lyrical Stories of American Gothic Characters of Fiction, and Instrumentals Written for Film and TV. Musicians include Karl Hoffmann, Joe Fanning, Chris Giambelluca, and Heather Hardy.
"Dreams are Strange is the band's fifth release, and every Carnivaleros CD is excellent, that much goes without saying, an intoxicating mixture of roots musics of all brands: zydeco, folk, Appalachian, Tex-Mex, swing, and, yep, even waltzes, though Big Louie and the Versailles Court would never recognize the lattermost incarnation here, I'm pretty damn sure. More, each disc is better than what preceded it. That alone should supply the band with ample reason to…cut it the hell out!! This is Earth, we're allowed only just so much above our station, and then have to shuffle off the coil, so don't force the envelope! The listener is advised to afterwards listen to The Osmonds, The Archies, or The Bangles as penance for having tasted of Eden and the apple."
- Mark S. Tucker, VERITAS VAMPIRUS, Issue 1,196, April, 2016
"The band keeps a steady rhythm up on drums, bass, banjo, and other strings as The Carnivaleros make their way over "Hesitation Bridge" across thickly woven riffs and rhythms. The beat huffs a gypsy thump to welcome "Mamie Eisenhower" as "Tumacori" drifts on a dry desert breeze while a jazz shuffle dances in "Donna's Song" and "Time Traveling" coasts on a percussive rumble."
- Danny McCloskey, The Alternate Root, April 21, 2016
"Gary Mackender…has crafted something so different in Dreams Are Strange that it defies any of the usual cliches or comparisons we reviewers so often rely upon. The melding of banjo and accordion alone probably goes against every sensibility and accepted musical convention known to mankind and yet it works in most wondrous ways. Adding (Heather) Hardy's haunting violin to some of these tunes, 'Donna's Song' in particular, is more than enough to make one sit up and notice."
- Jim Lipson, Zocalo Magazine, May 2016
Below are a few tracks from Dreams Are Strange!
Previous Releases
---
Strictly Tabu | 2014
click image for credits and lyrics
click here to purchase
---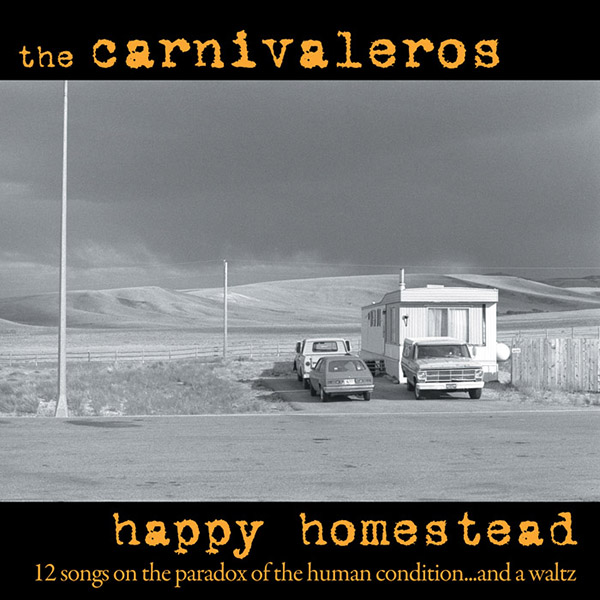 Happy Homestead | 2009
click image for credits and lyrics
click here to purchase
---
Lost In the Graveyard | 2006
click image for credits and lyrics
click here to purchase
---